AirPods Max Charging Stand, 4-in-1 Wireless Charging Station for iPhone 12, Apple Watch, AirPods and Headphone
Order today & Get a pair of
AirPods Max Case

FOR FREE

.

Get 10% OFF with the coupon code "MAX"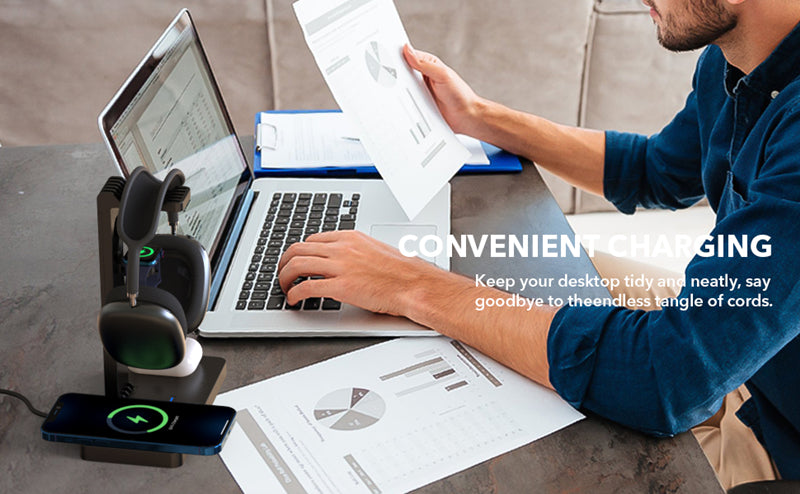 Charge 4 devices supported – iPhone 12/11/X/8Plus series device & Samsung smartphone with wireless charging capabilities, Apple Watch series, AirPods series, and Additional USB-C port for AirPods Max or any other devices.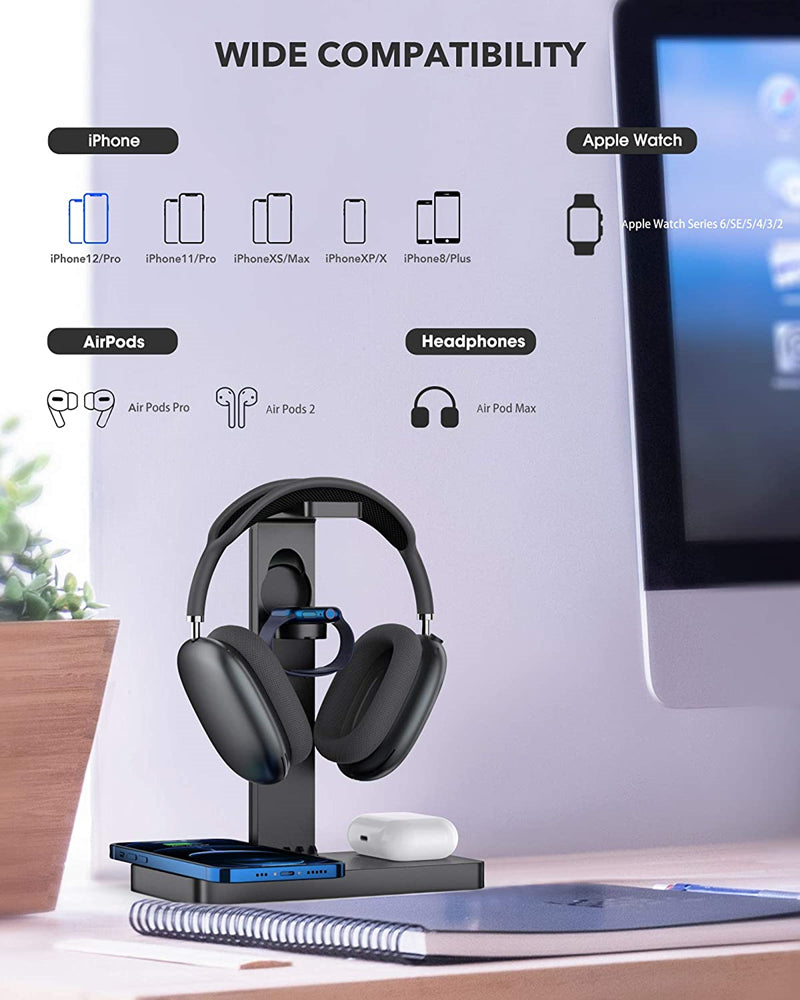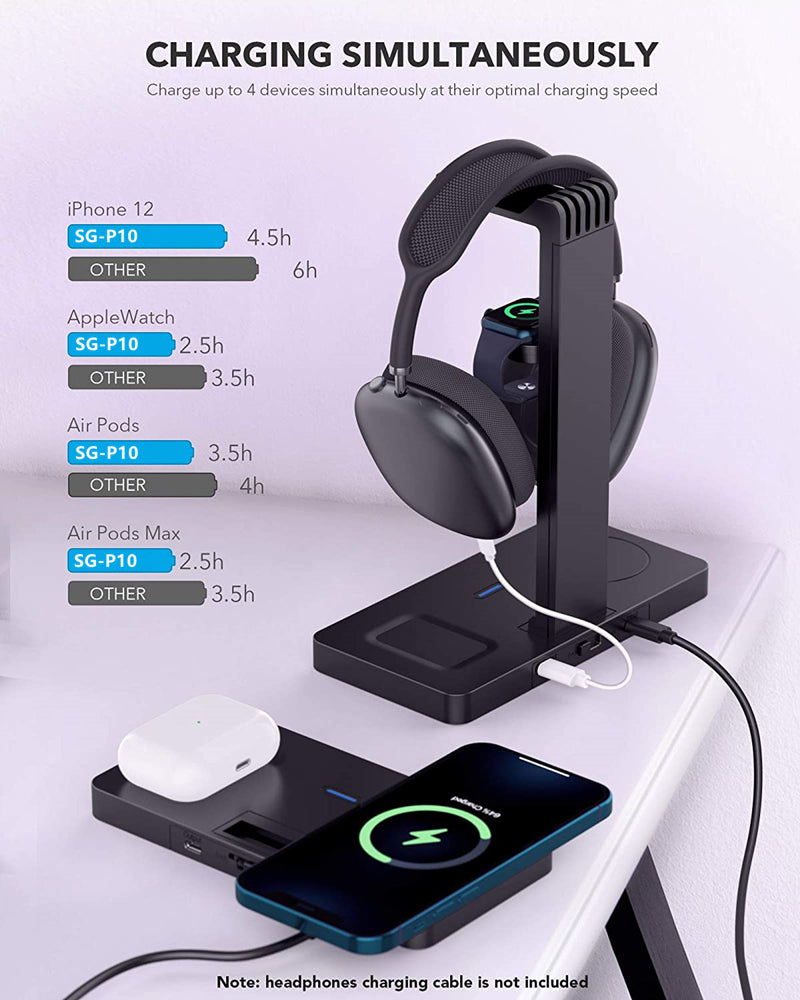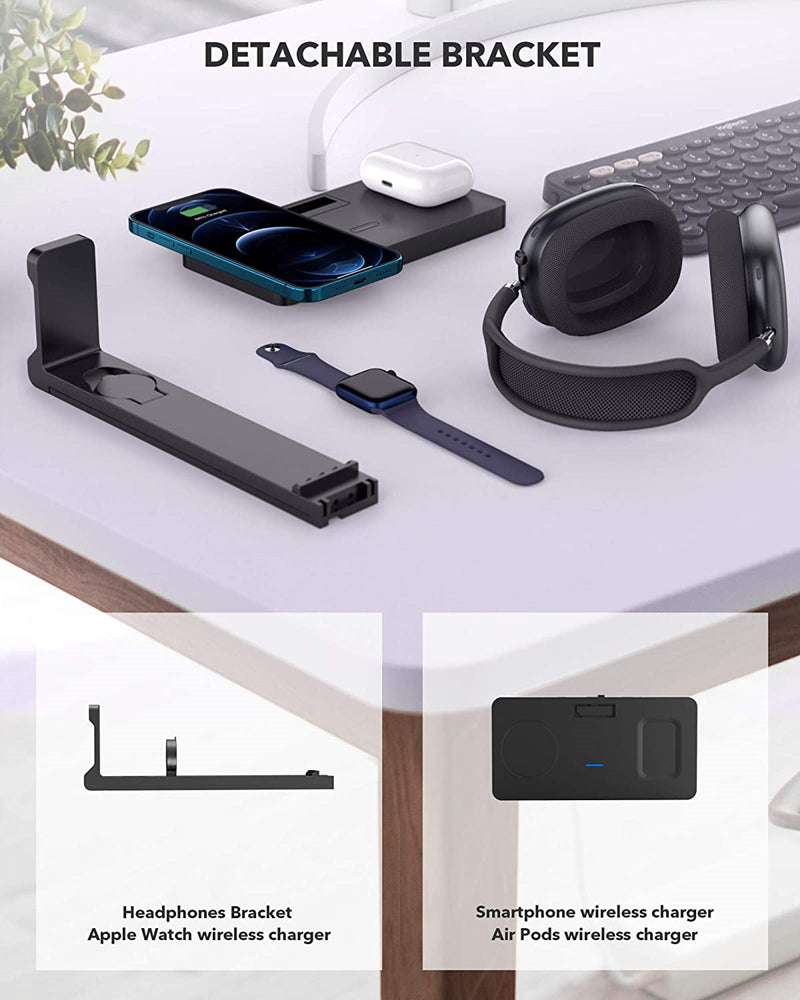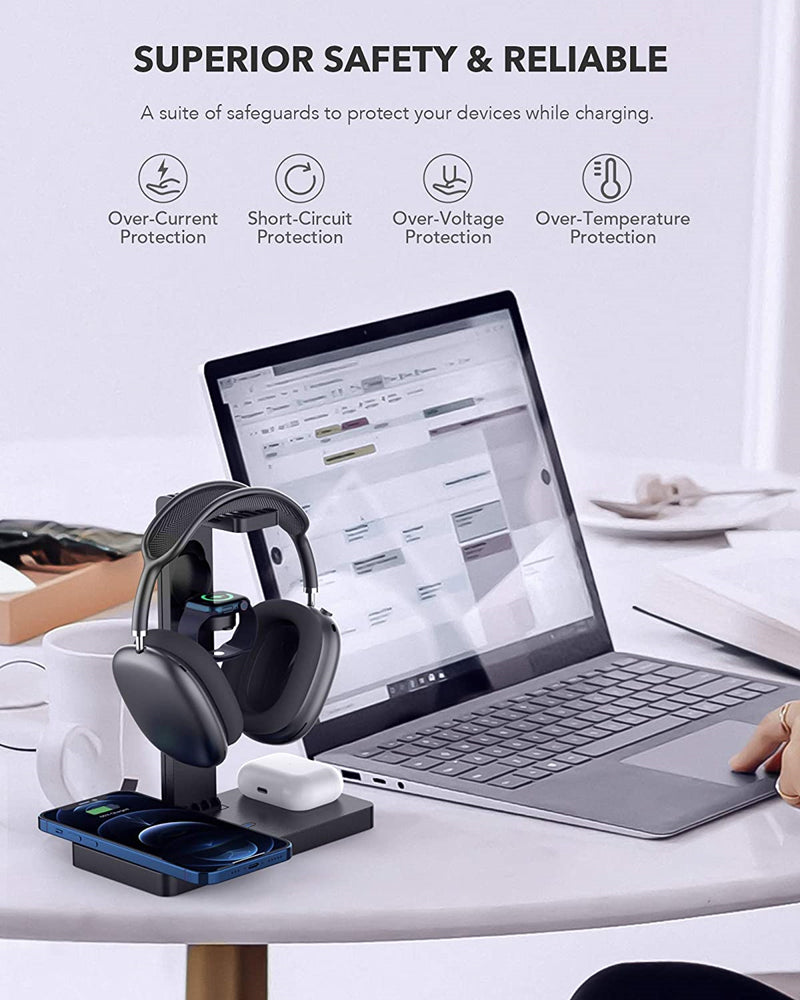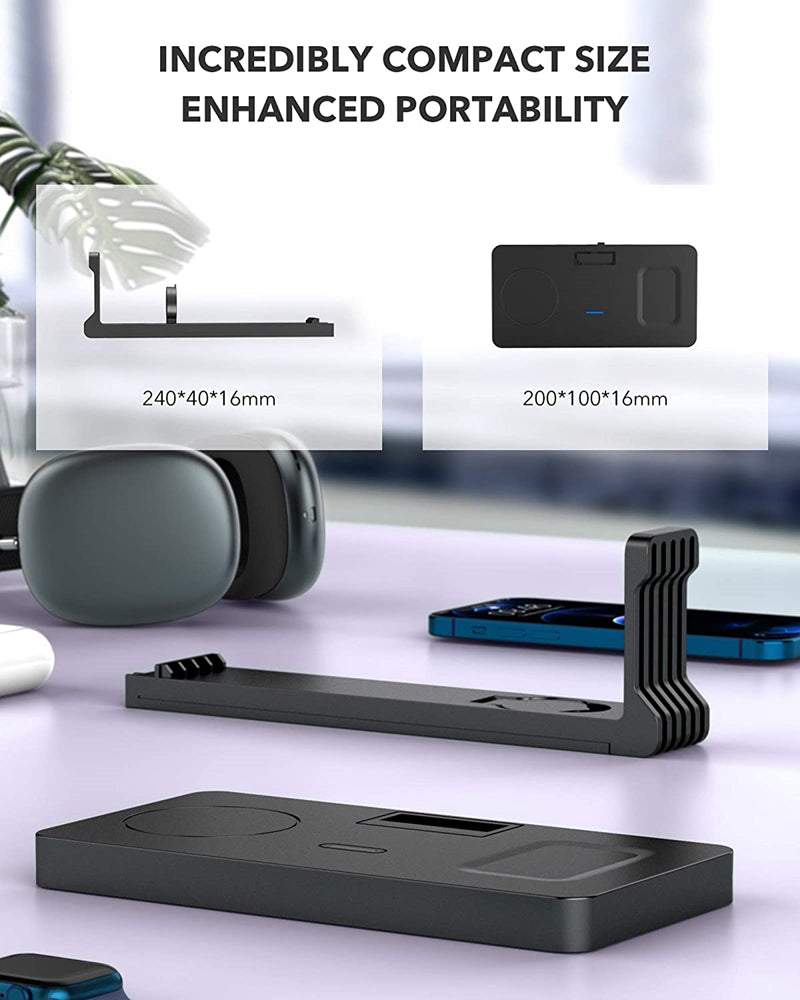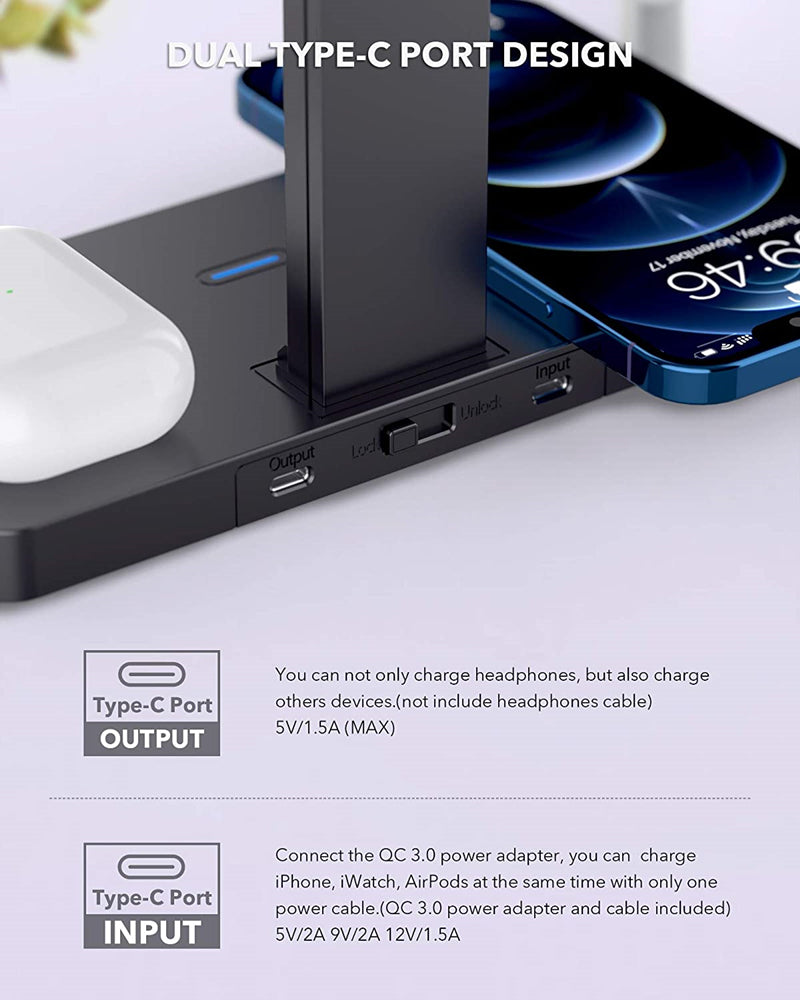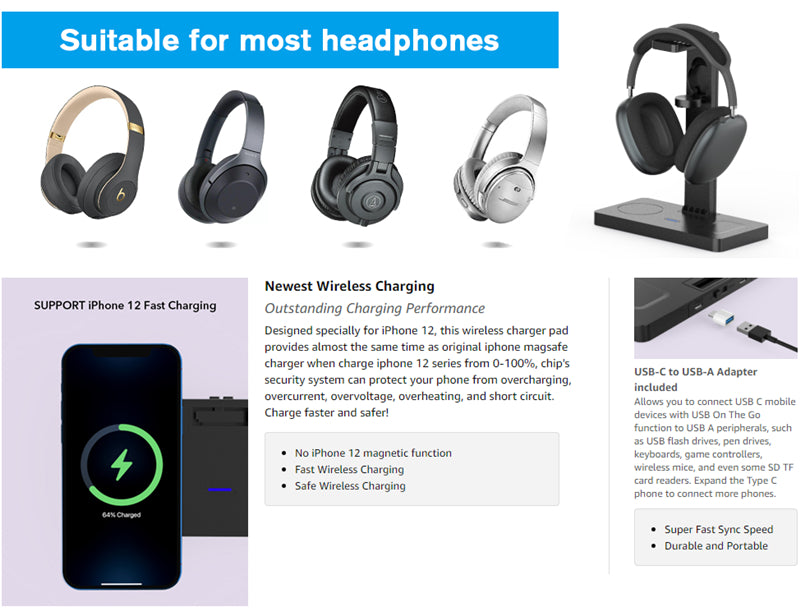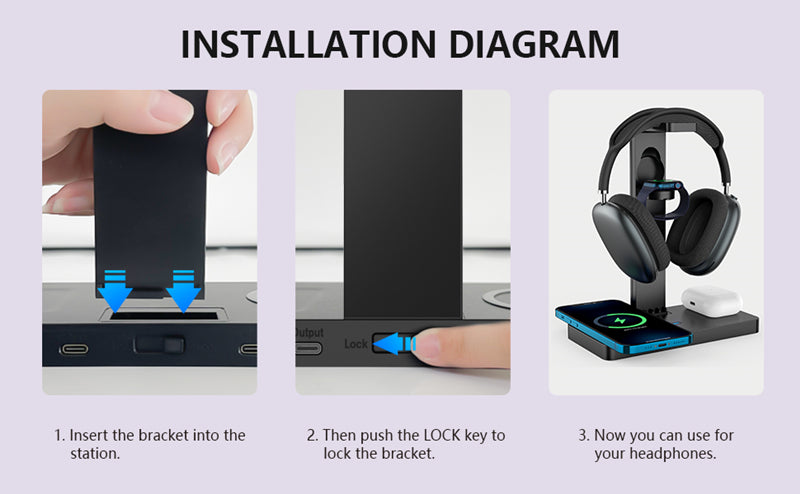 Tech 

Specs:
Function: QI/ QC3.0/PD 3.0/Wireless Charger/Cell Phone Charging/Smart Watch Charging/Earphone Charging/Headset bracket/Headset Charging
Use: Smart Phone/Smart Watch/Earphone/Headset bracket
Output: 5V/1A 5V/1.5A 9V/1.2A 9V/1.67A
Input: 5V/2A 5V/3A 9V/2A 12V/1.5A
Power Rating: 5W 7.5W 10W 15W
Mobile Output: 5W~7W~10W
Watch Output: 2W
Earphone Output: 5W
Transmission distance:< < 8mm
Surface Material: ABS + Plastics
Color: Black
Socket standards: Universal
Compatible Devices: 
Smart Phone list:

Apple: Apple iPhone 12 Pro Max, iPhone 12 Pro, iPhone 12, iPhone 12 mini
Appple iPhone 11 Pro Max, iPhone 11 Pro, iPhone 11
Appple iPhone XS Max, iPhone XS, iPhone XR, iPhone X
Appple iPhone 8 Plus, iPhone 8
SamSung: Galaxy Note20 Ultra, Note 20, S20
Galaxy S10+/S10/S10E
Galaxy S9+/S9
Galaxy S8+/S8
Galaxy S7/S7E
Other devices supported QI Wireless charger standard

Watch list:

Apple Watch 6/5/4/3/2/1
Huawei Watch GT2 Pro

Earphone List:

Apple AirPods 2、1
Huawei FreeBuds Pro, FreeBuds 3
Xiaomi Air 2 Pro
Order today & Get a pair of
 

AirPod Max Case

 

FOR FREE

.