QGeeM 8-in-1 Tempered Glass USB C to HDMI Adapter, USB C to USB 3.0, with100W PD, SD&TF Card Slot, USB c to 3.5mm

Wide Compatibility
This all-in-one USB-C hub is widely compatible with Windows 10, 8, 7, Vista, XP, Mac OS X 10.6 or higher, Linux 2.6.14 or higher, which are based on USB-C outputs (especially MacBook Pro 2016 or later).
Enjoy 4K media
Transmit and enjoy 4K media & streaming via HDMI port, but when the HDMI port and VGA port are used simultaneously, the HDMI port can only output 1080P resolution.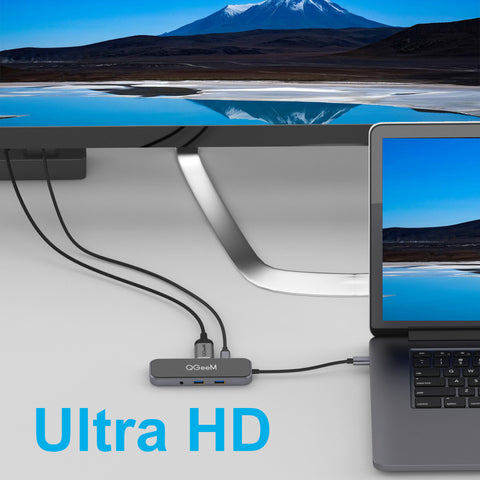 Power Delivery
Up to 100W power delivery, the keyboard consumes some power, so the charging power it can provide is slightly less than 100W.
Plug and Play
Easy to use, there is no external drivers or power required(Due to the power supply limit of the laptop, some high-power devices may not boot up)