Useful Items To Enhance Your Work From Home Skills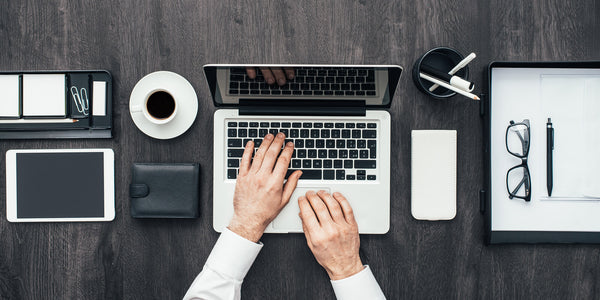 Settle in. This extended, necessitated period of working from home isn't wrapping up anytime soon. If you work from home often, you need to set up a functional work area or home office to provide the needed concentration that will boost your productivity when you work. 
1. More Organized
2-in-1 MagSafe Stand for iPhone 12 series & AirPods  \ from $69 
Just place your iPhone on the stand, the Magnetic tech will automatically align the could to provide precise and efficient charging. Place your AirPods on the bottom charging pad and enjoy fast and simultaneous charging experience. iPhone 12 supports Fast Charging and 2.5W for AirPods. Both Portrait and Landscape, and the viewing angle can be adjusted up to 45°, making it more convenient.
3-in-1 MagSafe Stand for iPhone 12 series & AirPods & Apple Watch \  $78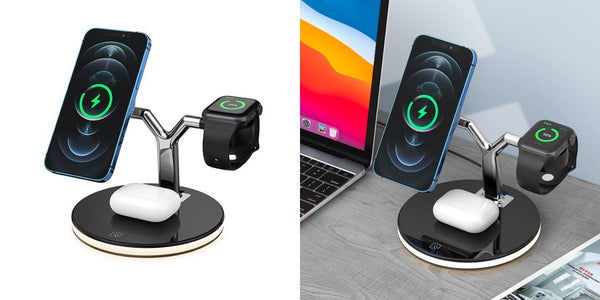 Simply put your iPhone 12, Apple Watch, and AirPods on this stand, all 3 charged at the same time with efficient power delivery. The night lamp will light on once your devices are on charging. Premium finishes like stainless steel complement iPhone 12 models and other Apple devices. The bold, modern design fits perfectly in any space, from office to living room.
4-in-1 Magsafe Stand with Fill Light for iPhone 12 series & AirPods & Apple Watch  \ $69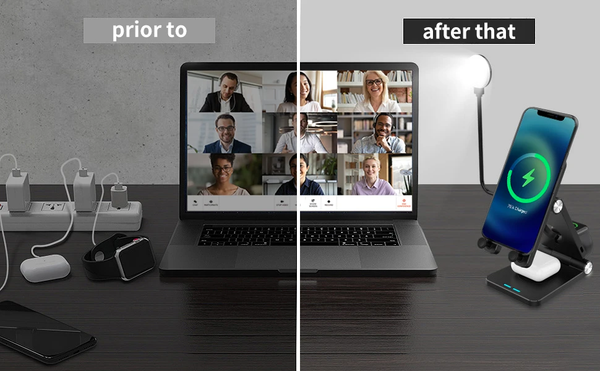 This 4-in-1 MagSafe Charger Stand can not only charge your iPhone 12, AirPods, Apple Watch (or another wireless charge phone) at the same time but also offers an angle-adjustable stand to hold your phone while adding a soft fill light for live chatting, video conference, etc...
2. More Comfortable
5 in 1 Type-c Hub & Ergonomic Foldable Laptop Stand for MacBook \ $89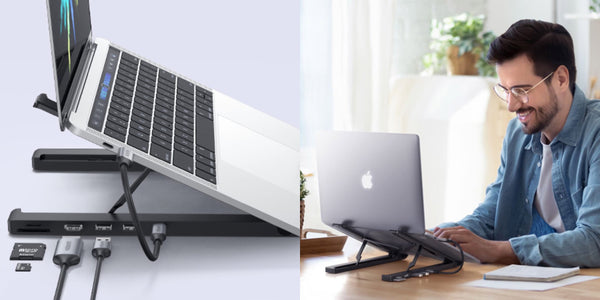 The X-Kit is the combination of a powerful 5-in-1 USB hub that connects to all the devices you need to boost productivity and an ultra-lightweight ergonomic laptop/tablet stand with four adjustable angles designed for maximum mobility. Find your best ergonomic posture with 4 adjustable angles whether you want to read, type, take notes, draw, or use external keyboards with laptops and tablets. The X-Kit provides optimal comfort without the fatigue of your neck, arms, wrists, or eyes.
3. More Powerful 
USB C Hub for M1 Mac mini Expand SSD/HDD \ $90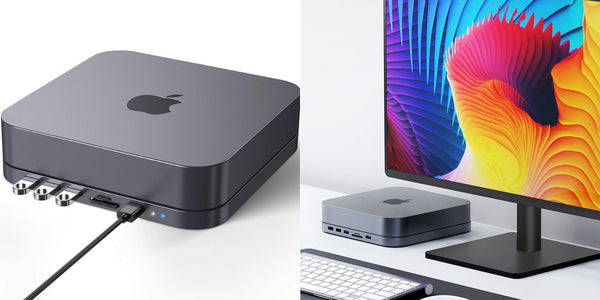 Features a USB - C female port (only link to host), 2 USB 3.0 ports (5Gbps), 1 USB 2.0 ports (480Mbps), and micro/SD card readers for convenient access to your essential peripherals. 
11 In 1 Type C Hub Multinational Expansion Dock \ $79.99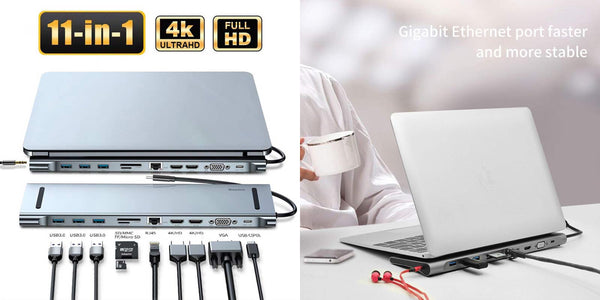 Supports hot-swapping or hot-plugging, multi-platform compatible, Auto Switch Between Bus Powered and Power Delivery Powered Mode, Instantly adds 3xUSB3.0 Port, 1 TF Card Slot, 1 SD Card Slot, 1 HDMI 4K/30Hz, 1 VGA, 1 Mini DP, 1 RJ45 1000M Ethernet port, 1 Audio/Mic 2 in 1 Port, 1 Power Delivery PD2.0 Port for MacBook Pro 2015/2016, Chromebook & more USB C Devices.